A Truckers Wife Convention 2006
Convention Sponsor Information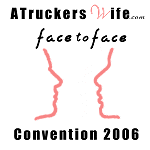 I am writing representing an online community of strong women, atruckerswife.com. We are a community of women, founded by women, supported by women and managed by women. We are from households all over the map. We are American. We are Australian. We are Canadian. We are wives, mothers, and significant others. We have one important element in common: we are trucker's wives.
A trucker's wife is a woman like no other. We have learned to be independent. We have learned to be flexible. We have learned to fill traditionally male roles like fixing household appliances and servicing our own vehicles. We have, as a result, learned to 'wear the pants' in our households without robbing our truckers of their manliness.
We face struggles and stereotypes that would deter many women from our chosen lifestyle. Our husbands may be gone for days or weeks at a time. Outsiders question the strength of our marriages. Many of us manage our households, marriages, jobs and children while our men are miles and miles away from home. Some of our truckers are only a few miles from home while some are as far away as Iraq.
In response to our daily challenges, we have gathered together at atruckerswife.com to share resources, impart wisdom, and solicit advice. What we have fostered in our online community is a sense of belonging, a place to go for comfort & laughter and most importantly, an atmosphere of real friendship. We have become a large, online extended family. Since our inception, we have grown to a community of 294 members. Our 'family' continues to grow every day.
Many of us who live in proximity to each other have had occasion to meet for coffee and conversation. Many of us have stumbled upon friendships that will last a lifetime. This year, we are organizing A Truckers Wife Convention 2006 in the hopes that the majority our 'family' can meet in Green Bay, Wisconsin as an auxiliary conference to the Titletown Trucker's Showdown in July 2006.
We are a wholly non-profit group. We are all paying out of our own pockets for travel, lodging and other expenses. Many of us are traveling hundreds of miles to attend the conference. We would like to see your company name on our promotional materials and T-shirts. Sponsor company names will also appear in a program to be distributed to all who attend A Truckers Wife Convention 2006. Additionally, there is promotional space available on our website. You may request a copy of our sponsor packages by sending an email to marianne@atruckerswife.com, please include a contact name, your company or organization, email address and phone number where you can be reached..
Thank you in advance for your consideration. You may direct all sponsorship inquiries to marianne@atruckerswife.com. You may also contact our community founder, Kelly Livingstone, at kelly@atruckerswife.com. Please also feel free to explore our online community at http://atruckerswife.com.
Respectfully yours,
Marianne J. McLaughlin
Marketing/Promotions
ATW Convention 2006
marianne@atruckerswife.com

http://atruckerswife.com/convention/
Face to Face