We Believe in...

WomenInTrucking.org

411Gina.org

National Hemophilia Foundation

Canadian Hemophilia Society

Canadian Breast Cancer Foundation

American Cancer Society

Heart and Stroke Foundation

AHA - Go Red For Women
---
Memorials
A space for Trucker family and friends to honor their Trucker's past.
---
NEW at ATW
Quotes, Slogans and Sayings
Relating to the life of truckers, trucker wives and families.
Electronic Cards
Choose from Eight new online cards featuring designs from TheTruckStopShop!
You will also find new Birthday Flower online cards for each month.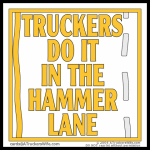 A Trucker's Wife Point of View
by skeasling
IF YOU GOING TO PASS A TRUCK THEN PASS AND GO!
This means don't pass the truck get back over and slow down. Once again those trucks can't stop like you can! So Pass and GO!
Read more Share the Road Tips here...
A Helpful Trucker
"I wanted to give you a sincere THANK YOU from the bottom of my heart for the careful driving you did while I was following you. My drive home from my camp trip was a trip from Hades."
Read Denise's story here...
See ATruckersWife.com as Site of the Day on FOX Houston!
---
TOMMYS WORLD releases new product line!
Tommys World Entertainment, the first children's entertainment company to ever feature big-rigs as the main cast and trademarked as 'The Ultimate Diesel Powered Adventure. Ever!' has publicly announced the launch of its brand-new interactive broadband website.
Read the press release here...
---
---
Track Your Truckers...
Wall map posters are a great way to see where they are at a glance! Great for children to track them too! Fun and educational!!

---
Please join our community forums.
---
Latest Poems, Odes and Tributes
Trucker Accolades
Every Mile Traveled Brings You Closer To Home
Living the Life of a Trucker's Wife
I'll be here waiting
---
ATW is currently compiling a cook book and poetry book that will be used by trucker wives, friends and family.
If you may be interested in buying ad space in the books, please and we will send you information as soon as the details are finalized.
We need your greatest recipes, poems, photos and more. Submission information is here.
---